Great Nebraska
Naturalists and Scientists
NOU, A.J. Klopp, Letter, 1904, Apr. 21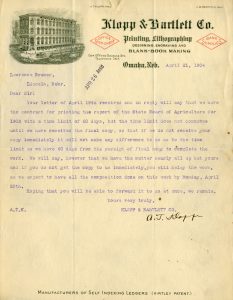 A. T. Klopp, Pres. J. B. Redfield, Secy
Klopp & Bartlett Co. Printing, Lithographing Designing, Engraving and Blank-Book Making
Office Stationery Bank Supplies
Cor. 10th and Douglas Sts. Telephone 364.
Omaha, Neb. April 21, 1904
APR 26 Ans'd
Lawrence Bruner, Lincoln, Nebr.
Dear Sir: Your letter of April 19th received and in reply will say that we have the contract for printing the report of the State Board of Agriculture for 1903 with a time limit of 60 days, but the time limit does not commence until we have received the final copy, so that if we do not receive your copy immediately it will not make any difference to us as to the time limit as we have 60 days from the receipt of the final copy to complete the work. We will say, however that we have the matter nearly all up but yours and if you do not get the copy to us immediately, you will delay the work, as we expect to have all the composition done on this work by Monday, April 25th. Hoping that you will be able to forward it to us at once, we remain, Yours very truly, Klopp & Bartlett Co. A. T. Klopp
A.T.K.