Great Nebraska
Naturalists and Scientists
NOU, Alici L. Park, Letter, 1905, Oct. 25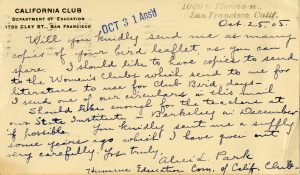 California Club Department of Education 1750 Clay St., San Francisco
1006 Florida St. San Francisco, Calif.
Oct. 25. 05. OCT 31 Ans'd
Will you kindly send me as many copies of your bird leaflet as you can spare. I should like to have copies to send to the Women's Clubs which send to me for literature to use for Club bird days. I send one of our circulars in this mail. Should like enough for the teachers at our State Institute in Berkeley in December if possible. You kindly sent me a supply some years ago which I have given out very carefully. Yrs. truly, Alice L. Park Humane Education Com. of Calif. Club.