Great Nebraska
Naturalists and Scientists
Edith Schwartz Clements
Letters, 1911
Aug. 14, 1911
---
1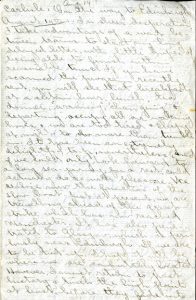 August 14
Carlisle: On the way to Edinburgh
August 14th: In sheer desperation I take advantage of a wait between trains to start my long delayed
letter, with little hopes of being able to finish within reasonable time. If you have
scanned the program recently sent, you will see that breakfasts at a certain hour,
lunch, tea, dinner, "arriving," "changing" & "departing" occupy all our waking hours
& we are too tired & sleepy at night to do more than tumble in. It has been an extremely
delightful trip, nevertheless, and if we could only look forward to a long sea-journey,
for a rest, could actually do so with pleasure. We realize now the function of the
slow boat. Just at present, we are travelling ahead of the great strike which has
now reached Manchester. It has also penetrated to Glasgow, which is perilously near Edinburgh. If we are to be tied up. I hope it will be where we are comfortably located. However,
I must return to past history & touch the high points at least, before they fade into
---
2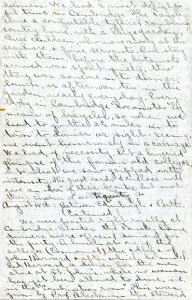 dimness. We had a most delightful time in Cambridge. The Tansbys have a comfortable typical rambling country home, with a large garden, three children,
who were away at the seashore, & five servants. Our stay with them, before the botanists
arrived was spent quietly, tho' there was someone in to dinner, lunch, or afternoon
tea in the garden, nearly every day. Everybody in Cambridge "loconates" by means of bicycles, so when we had to go the 2 1/2 miles in to town
to dinner or sight-seeing, we went luxuriously in a carriage. We had, of necessity,
but a hurried glimpse of the famous old colleges, but what we saw gripped with intensity.
The post-cards I enclose will give an idea of their beauty, but not their charm of
antiquity.
August 15th: Between Edinburgh & Perth.
(Continued)
We were feasted right royally at Cambridge. Besides, the Tansby home dinners were official dinners for the party. A lunch, at one of the colleges
(Emmanuel) the college of John Harvard & after which he modelled​ Harvard, a dinner for the men alone at St. John's, where no woman has yet been allowed
to dine, i.E.​ in the "Combination room." This was given by Prof. Blackman the steward
---
3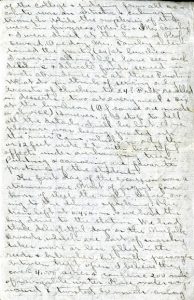 of the college & judging from all accounts was an artistic & culinary triumph while
the mysteries of this were in progress. Mrs C. & Mrs. Tansby & I were dined at the home of Prof. Seward. One day, Mrs. Tansby entertained the party (24/at luncheon. I never, in all my life have seen such delicious
& delicate foods served in such abundance as at these Functions. What do you think
of serving only breasts of chicken to 24? Fritz revelled in desserts: two at every meal & six at the luncheon (Of course one made
a choice). However, if I stop to tell all the details, I will be lost. One pleasure
was being punted up the "river" Cans, (colne????) which is only ten or 12 feet wide,
but with beautiful effects under overhanging trees. Punting & canoeing are favorite
pastimes of the students.
The first day of the excursion was a strenuous one. Most of us got four hours of sleep
the night before, owing to the dinner & packing. The train left at 6:45 a.m. & we
had the long drive to the station. We had three delightful days on the Norfolk Broads, which are sort of marshy lakes more or less filled with reeds & bulrushes, but with
passages between kept open. I believe they cover 4,000 acres & comprise 200 miles
of navigable water. These water ways wound & twisted so much among
---
4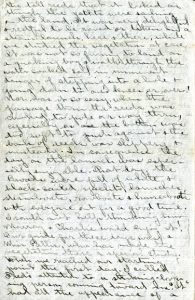 the tall reeds that it looked as though the yachts were sailing on the land. It was
very delightful & restful to be rowed or taken in a steam launch, here & there, while
we studied the vegetation at ease. It was not so funny to land on a quaking bog &
walk through the water soaked soil in imminient danger of stepping into a hole & going
down to one's knees or over! Nor was it so easy, when the passage thru the reeds was
choked, to pole our way thru, especially as one the bottom was too soft to push against & the bank of reeds was slippery & unsteady.
In consequence the day on the launch was especially enjoyable. That day, the Broads were full of white & black-sailed yachts, launches, steamboats, rowboats & house-boats with everyone out for a good
time. I could not help thinking how Murray & Charlie would enjoy it! Our guide for these days was a Miss Pallis, who has made the vegetation there a special study. When we reached our starting
point the first day, I called Fred's attention to a striking-looking person coming toward us. "It" had all the appearance
of a
---
5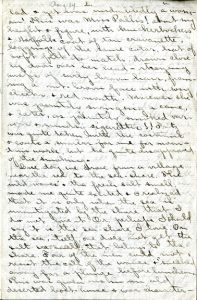 Aug 14 2.
lad & yet was undoubtedly a woman! This was Miss Pallis! about my height & figure, with knickerbockers & Norfolk coat of tan cravanette,
leggings of the same color, hat of soft felt to match, drawn closeby down over he
head – straying wisps of curly brown hair, framing a nut-brown face with rosy cheeks
& red mouth. Morever she was jauntily swinging a cane, & later, as jauntily smoked
various & sundry cigarettes!! Fritz was quite taken with the costume & covets a similar for me for mountain work, but
he quite disapproved of the smoking.
One day, we drove from a village near the sea to the sea-shore. The "wild waves" &
the fresh salt smell made me quite excited & I realized that it is only when the sea
is unmitigated by the shore that I do not love it. Or, perhaps, I should say it is
the sea-shore I love. On the sea, itself, one does not get the salt sea smell that
belongs to the shore. Four of the men could not resist the call of the waves & "sneaked"
away for a plunge before luncheon. This was given us in an old deserted boat-house
& was character-
---
6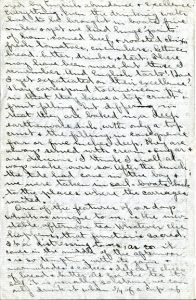 ized by English abundance & excellence. Everything, even the drinking water had to
be brought in boats five miles & yet we had huge "joints" of ham, corned beef & roasted
chix, fresh tomatoes, cucumbers, lettuce, bread, butter, drinks, & tart. There may
have been more, but those I remember. And English tarts! Have I yet expatiated on
their excellence? They correspond to American pie in that they have a top crust &
fruit filling, but differing in that they are baked in a deep earthenware dish, with only a top crust & the filling, in consequence four or five
inches deep. They are always served with cream & sugar & are delicious. I think I
shall always make ours so. After the lunch, the tide had come in the bay & we were
taken in sail-boats back to the places where the carriages waited.
One of the features of our days which is unique to us, is the inevitable afternoon
tea. Whatever else happens, that function's sacred. It is distressing to us, as co it comes in the middle of the afternoon & is so tempting with its jams & marmalades
& cakes & delicate slices of bread & butter. As for the tea itself, it is usually
so stong, we can only drink it when 3/4 of a cup of
---
7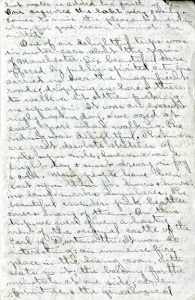 hot water is added to a fourth of tea. One acquires the habit very easily & comes
to miss the pleasant diversion when, for good reason, it must be omitted.
One of our delightful trips was in motor-cars about the region of Manchester. Six beautiful cars, offered by public-spirited citizens carried us over the magnificent
roads; dropping us here & there to walk a bit & then picking us up again. It was an
exceedingly warm day, & we oozed at every pore when walking. The riding was delightful.
The moors are great desolate stretches of mile upon mile, lonesome on a bright day
& most dreary in fog & cold. Many people have been lost upon them for hours & hours;
no land-marks anywheres. The beautiful lavender-pink heather covers many of them.
On this trip, we were given a hasty view of the original castle of the Earl of Dartmouth.
It was so interesting: an immense fireplace in the living-room, with seats in it; the balcony for the minstels at one side; carven​ furniture, & the genealogical
---
8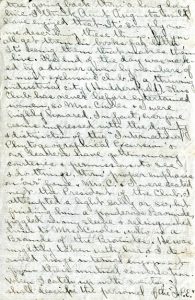 tree, going back thru a long long line. I think Aunt Augusta would have enjoyed that. It's simply no use describing these things, for you all
get them in books for better. It's seeing them that makes them live. The end of the
day was marked by a dinner given by members of a most exclusive club of a thriving
industrial city (Huddersfield). This Club has never before entertained women, so Mrs. Cowles & I were highly honored. In fact, everyone seems impressed with the dignity & distinction
of the "International Phytogeographical Excursion" & our leaders have gotten many
courtesies & permissions to see & do things, thru proper emphasis on "our" fame Mrs. C. & I were seated next the President of the Club. I attempted a light sally or so,
but finding him a ponderous Bromide, giggled in my sleeve & relinquished him to Mrs. Cowles, who is a Bromide of the Bromides. He was mightily taken with her & I derived huge
internal enjoyment from their mutual conversation. When I catch up with events, I
shall describe the personnel of the "I.P.E."