Great Nebraska
Naturalists and Scientists
Edith Schwartz Clements
Letters, 1911
Aug. 22, 1911
---
1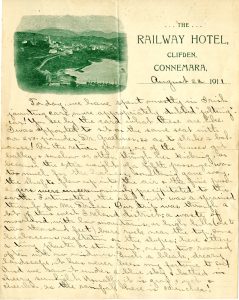 August 22 1911
To-day​, we have spent mostly in Irish jaunting cars, more appropriately dubbed "jolting"
— car! You see by the card what these are like. I was appointed to sit on the same
seat with our 250 pounder, Dr. Graebner, so as to strike a balance! On the return journey , one of the horses got balky,
& somehow or other, through her kicking, or because the extra weight of a fifth passenger
was too much for the harness, something gave way, the shafts flew up into the air
& the five passengers were unceremoniously precipitated to the earth. Fortunately,
the only hurt was a sprained thumb for Mr. Druce. Our trip was through a bit of this west Ireland district; a waste of moorland with low mountains, or high hills (one to two thousand
feet) bare rock near the top, soem herbaceous vegetation on the slopes; here & there
a tiny plaster or stone hut, one or two roomed, often with no windows. Such a bleak,
dreary landscape, it has never been my fortune to see! And we saw it under a blue
sky & bathed in cheery sunlight. Normally it is grand & wet & cheerless, as the rainfall
here is 80 inches!
---
2
What must it be then! And what a life for the handful of sodden peasants! I think
they keep their pigs & ducks in the house with them. There is a tradition that years
ago this was a prosperous community, but English rule li or misrule, has ruined it. So that now the few individuals remaining are supported
by money sent from relatives in America, or working at the harvests in Scotland. Personally, I would blame strong drink more than government. In this town of 700, there are 33 saloons, & they say that on Saturday night every man woman & child
is drunk! The streets of Dublin, the nice streets, were swarming with poor wretches, some having the appearance of having slept
there. There are doubtless poor & wretched in our cities, but they keep to certain
quarters; in Scotland & Ireland they give character to the entire business section.
August 23rd: Galway: Fritz & I are enjoying a morning of pure & unadulterated laziness, seated on a rock by
the sea-shore, watching the tide creep slowly in. All about is a stretch of uncovered
rocks, thickly overgrown with brown sea-weeds, like long, unkept hair. The sea-gulls
are noisily quarrelling over their food; voices of bathers float to us from the distance;
the sun shines & there is no wind. The distant horizon is dotted with sails & all
is peaceful & lonely. Yesterday afternoon, the sea was beautiful in the ell evening light — all green & purple. Both here & there it is calm & flat as a mirror.
May it be so when we cross again!
August 26th: Between Killarney & Cork. We went by steamer from Galway to Clifde to Galway. to Ballyvaughan There took jaunting cars & despite the lateness of the hour, we wandered over the
limestone hills until dark. I fear howev however, that it is not the botany of GalwayBallyvaughan which will stand out as strongly as the meals! We were housed in (a homey place managed
---
3
by a skittish, red-haired Irish spinster with a delicious brogue. How she did feed
us! Dinner at nine o'clock, after our walk; at one end of the long table a huge leg
of mutton, at the other a baked ham; at the side a platter of roasted fowls; potatoes,
three vegetables, two huge apple tarts, rice pudding, bread pudding & a molded gelatine!
I fear we all stuffed! And the next morning for breakfast, fish, lobster, eggs & bacon,
toast, three kinds of jelly or marmalade, tea & coffee. The 29th was spent in travelling
all day in a reserved car, very much like our passenger coaches, but rather shabby
& dirty. At Wallow, we had two hours for dinner. We walked thru the town & saw the loveliest old ruined
castle yet, all covered with English ivy. Reaches Killarney after ten & drove to the Lake Hotel, a The 25th was spent in a drive in the region of the lakes, which are truly beautiful,
in a setting of wooded mountains & see pictures.
I have forgotten one point of interest in the last few days, which is the change in
weather. We drove Aug 24 fifteen miles in jaunting cards, to the railway station,
three hours. The way was marked by successive, fierce downpours, with enough time between to almost get dry. I was best off of
all, being in a
---
4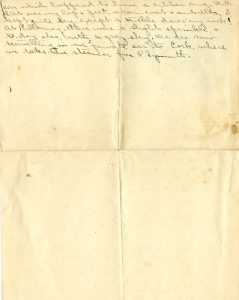 car which happened to have a rubber rug. With that over my lap & feet, a rain coat
& umbrella, I kept quite dry, except a trickle down my neck! At Killarney, there was a slight sprinkle & today also, with a gray sky. We are now travelling
in our "private car" to Cork, where we take the steamer for Plymouth.