Great Nebraska
Naturalists and Scientists
Edith Schwartz Clements
Letters, 1911
July 8, 1911
---
1
Letter 3 – page 1.
July 8th
Saturday; July 8th: Sunday-the second, we spent with Prof. Drude and Haidee, his daughter, on an all day trip to Maissen a little town near Dresden. We had to get up in time to reach the wharf at 7:35. We took a cab & reached there
in time to see hundreds of school-children all in their best and carrying wreaths
on standards, march down to the steamer for a jaunt. Prof. D. & Haidee arrived after we had bought our tickets & gone aboard. Our steamer went down the
Elbe, and it took a couple of hours to reach our stopping point. The scenery on the way
was rather softly beautiful. The interesting thing to me was the number of floating
bathing houses on the banks, where men & boys, either entirely nude, or with a simple
breech-cloth, were diving & swimming. The weather was atrocious until late afternoon,
drizzling & then shinning & then raining.
---
2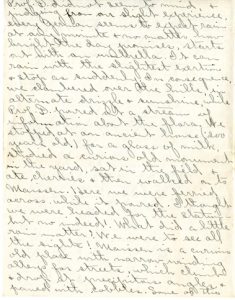 Prof. D. didn't seem to mind, & judging from our slight experience, every German seems to
expect rain at any minute & no matter how bright the day promises, starts out with
an umbrella. It can rain with the slightest exertion & stop as suddenly. In consequence,
we clamored over the hills, in alternate drizzle & sunshine, while Prof. D. poured
out a stream of information about the flora. We stopped at an ancient house (200 years
old) for a glass of milk, studied a curious old monument in the yard, sat in the field
& ate cherries & then walked onto Maissen. Here we were ferried across while it poured. I thought we were headed for the station
— but no indeed! What did a little rain matter? We were to see all the sights! Maissen is a curious old place with narrow winding alleys for streets, which climb & drop
at precipitous angles & paved with cobbles. Some of the
---
3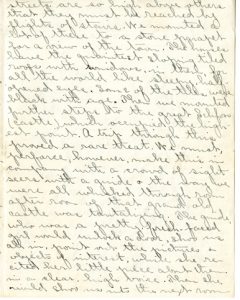 streets are so high above others that they must be reached by flights of stairs. We
mounted a lot of these to a stone parapet for a view of the town. The houses have
the quaintest sloping tiled roofs with windows in them, for all the world like sleepy
half-opened eyes. Some of the tiles were black with age. Then we mounted further steps
to the great Schloss (castle) which occupied the highest point. A trip through this proved a rare treat.
We must, perforce, however, make this in company with a crowd of sight seers with
a guide & the way we were all whisked through room after room of that grand old castle
was tantalizing. The guide, who was a pretty, fresh-faced girl would unlock a door,
show us all in, point out the pictures & objects of interest, while she recited her
little piece about them in a clear, high voice. Then she would show us into the next
room
---
4
lock the door behind us & continue. Fritz gained many black looks because he would linger. The frescoing alone would have held
one half a day & it was maddening to be allowed just a fleeting glimpse. The views
from the upper windows were magnificent — a sheer drop from these windows of hundreds
of feet, then the view over the town into the hills & up the river. Kit would have
gone wild. How we longed to sit & dream of bygone scenes & people who moved in them!
But no! we had to go on. Fortunately, the rain had ceased when we came out & the sun
shone gloriously. We wandered further about the old town, peering into musty hall-ways
& queer alleys. In one building, the feasters were singing a rousing German songover
their beer. We took our lunch in a garden looking out over the roofs & then proceeded
slowly for the train. On the way, Prof. D bought a cake which is a peculiar product of the town. It is baked in the
---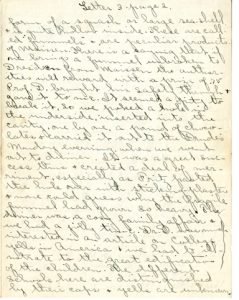 5
Letter 3 – page 2.
form of a squash or large sea-shell, & is quite hollow inside. These are all called
"fummels" & are peculiar products of Maissen. There is a saying that if one brings a fummel to Dresden from Maissen​ the authorities will reward with a prize of .75 Prof. D. brought his safely through & gave it to me. It seemed a pity to break it, so we poked
a hole in the underside, inserted into the cavity, one by one a pound of chocolates
& carried it out to the Drude's Monday evening when we went out to dinner. It was a great success thus & created
a deal of merriment, especially as Fritz pasted the whole over with sticking-plaster & none could guess why the fragile fummel
had grown so heavy. The dinner was, a cozy family affair & we had a jolly time. Dr. D was much interested in an article on College yells in America & we had to illustrated
to the great edification of the children. The different schools here are distinguished
by their caps & yells are unknown.
---
6
Monday Tuesday morning, we had taken my plates to a lithographer who makes beautiful colored
post-cards & he made a price on them for lithography which requires 15 impressions
for each plate, which is about the same price as was quoted in America for a three color process. Of course, there would be a duty
to add. This lithographer was very interesting, being interested in flowers & the
photographing of cloud effects. He runs off hundreds of beautiful colored post-cards
of such subjects, just for his own pleasure. I was so enthusiastic over these that
he gave me a couple of sets!
Tuesday dawned bright & clear for a change, & after packing, we met Prof. & Mrs. D.
at the high school & went for a jaunt in the "Saxony Switzerland," about an hour's ride out. This was a treat indeed, as the "mountains" were beautiful
pine-covered hills & our way led through the dusky forest up to the summit of one
of the highest hills where one could get an extensive view of the surrounding hills
& country. Here & there the rounded softness of
---
7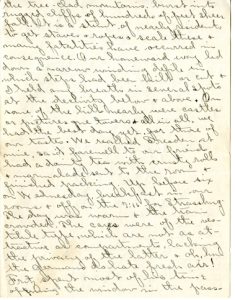 the tree-clad mountains burst into rugged cliffs of hundreds of feet sheer fall. It
is a stunt of nearby residents to get staves & ropes & scale these & many fatalities
have occurred in consequence. Our homeward way led down a narrow winding defile in
which steps had been built or cut & I held my breath in several spots at the declivity
below & above. On some of the hills nearby were castles or picturesque towers & all
in all, we had the best day yet, for those of our tastes. We reached Dresden at nine, said farewell to our friends had a dainty tea with crusty rolls & marmalade
sent to the room & finished packing. Up before six on Wednesday, breakfast in our
rooms & off on the 7:15 for Strassburg. The day was warm & the train crowded. The cares were of the vestibule type, which are not as attractive as compartments, lacking
the privacy of the latter & oh, how the Germans do hate fresh air! Fritz spent most of his time opening the window in the pass-
---
8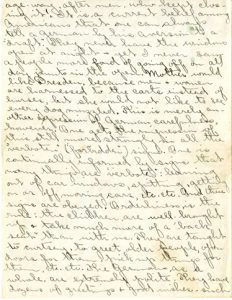 age-way, after men who kept closing it! It is a current belief among Americans that
one can always tell a German by his aversion to a "draft." They never have the windows
open at night & yet I never saw a people more fond of going off on all day jaunts
in the open. Mother would like Dresden, because men & women harnessed to the carts instead of horses, but she would not
like to see every dog muzzled. This is merely another expression of German carefulness,
however. One gets the impression of this still more strangely in all the "verboten" ("forbidden") signs. One is continually informed by signs that many things are "verboten": leaning out of car windows, spitting, getting on or off moving cars, etc. etc. And
these signs are obeyed. Orderliness is the rule: the children are well-brought up
& take much more of a "back seat" than with us. They are taught to curtsey, to greet
older people, open doors for them, pick up things for them, etc. etc. The Germans
as a whole, are extremely polite. They have dozens of greetings & good wishes — such
---
9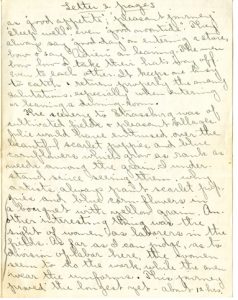 Letter 3 – page 3
as "good appetite"; "pleasant journey" "sleep well," even "good noontide." They always
say "good day" on entering a store, bow & say "Adieu" on leaving. The men bow low & and take their hats way off, even to each other. It
keeps one busy to catch & return properly the many salutations, especially when entering
or leaving a dining-room.
The scenery to Strassburg was of cultivated fields & pleasant villages. Julie would have enthused over the beautiful scarlet poppies and blue cornflowers which grow as rank as weeds among the grain. I understand since seeing them, why
artists, always paint scarlet poppies and blue corn-flowers in a bouquet with yellow
grain. Another interesting thing was the sight of women as laborers in the fields.
As far as I can judge, as to division of labor here, the women seem to do the work,
while the men wear the uniforms. This journey proved the longest yet — almost 12 hrs.
---
10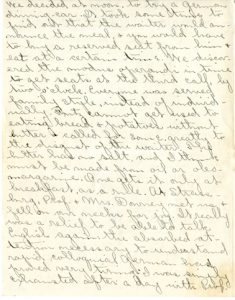 We decided at noon, to try a German dining-car. It took some time to find one that
the waiter would announce the meal, & you would have to buy a reserved seat from him
& eat at a certain time. We discovered the modus operandi in time to get seats at
the third call, by two o'clock. Everyone was served family style, instead of individually.
Fritz cannot get used to eating bread & potatoes with without butter & called for some,
greatly to the disgust of the waiter. The butter has no salt, and I think must be
made from oil or oleo-margarine. One gets it only at breakfast, as a rule. At Strassburg, Prof. & Mrs. Downy met us & fell on our necks for joy. It really was a relief to be able to talk English
again: the absorbed attention necessary to understand rapid colloquial German had
proved very tiring: I was simply exhausted after a day with Prof.
---
11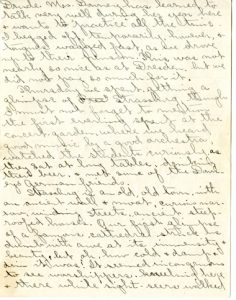 Drude. Mrs. Downey has learned to talk very well during her year here & wants to "practice" all the
time. I begged off, temporarily, however, & tongues wagged fast, as we drove up to
their pension. This was not nearly so nice as at Dresden, but we did not pay so much for it.
Thursday we spent getting a glimpse of Fres Strassburg, though I must not forget to mention the first evening spent at the concert garden,
where we heard good music by a good orchestra, watched the students curiously as they
sat at long tables, drinking their beer, & met some of the Downey's German friends.
Strassburg is an old, old town, with an ancient wall & moat, curious narrow, winding streets,
ancient steep-roofed houses. Our first glimpse of a famous cathedral struck us dumb
with awe at its immensity & beauty, but oh, how cold & damp & grim it was! It seemed
incongruous to see worshippers, kneeling here & there while sight-seers walked
---
12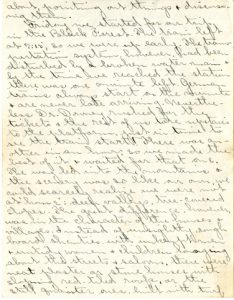 about, pointing out things & discussing them.
Friday we started for our trip in the Black Forest. The train left at 7:15, so we were up early. The transportation system, however,
had been disturbed by a broken water main & by the time we reached the station there
was one minute left. German trains always start on the minute & are never late arriving.
Nevertheless Dr. Downey rushed for the tickets & the rest of us tore upstairs to the platform, just in time
to see the train start! There was another in an hour, so we made the best of it &
waited for that one. The way led into the mountains & the scenery was so like our
own, we could scarcely realize we were not at home: deep valleys, tree-covered slopes.
The great difference, however, was in the character of the houses & villages. Instead
of unsightly, rough board shanties with unkempt men & untidy women & children lounging
about the streets & saloons, there were neat plaster or stone houses with sloping
red-tiled roofs, or the still quainter ones, built with turf
---
13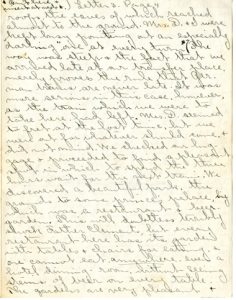 (* Quit here & unsent at next *.)
Letter 3 – page 4
roofs, the eaves of which reached almost to the ground. Mrs. D. & I were kept busy pointing at an especially "darling" one at every turn *The way
was steep & the fact that we arrived late at our transfer place merely proves the
rule that German trains are never late. It was more serious in this case, however,
as the train which we were to take here, had left. Mrs. D. seemed to fret at the lost time, but we were out for whatever should come, & did
not mind. We checked our luggage & proceeded to find a pleasant spot in which to spend
the three hours wait for the next train. We discovered a beautiful park, the grounds
to some prince's palace, by which was a restaurant & beer-garden. This will doubtless
terribly shock Father Clements, but every restaurant here has its garden with tables & chairs for eating, & one
cannot eat anywhere, even a hotel dining-room, without seeing steins of beer on every table. The gardens
are very pleasant &
---
14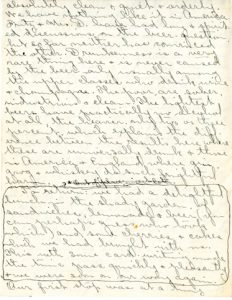 absolutely clean & quiet & orderly. We have nothing like it in America. Fritz & Mrs. D. have had long & spirited discussions on the beer-question, but so far neither has
cornvinced the other. Drunkenness is a very rare thing here & is never caused by beer only usually among the upper classes who
drink wine & champagne. The poor are sober, industrious & clean-. The lighest beers
have practically no alcohol at all, the heavier, only two or three percent, which
explains the difference between the results here where these are universally drunk
& those in America & England where gin grog & whiskey do such frightful harm. * Out of place, inserted both.
To return: we had a delightful lunch in the shady garden, of sandwiches, lemonade
& beer (you can perhaps guess who took which) and some cherries & cakes which we had
brought with us. This with some card-writing made the time pass quickly & pleasantly
& we were soon on our way again.
Our first stop was at a tiny
---
15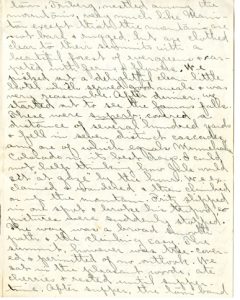 town, Triberg, nestled among the mountains, very much like Mariton except that the mountains are not bare and rugged, but are clothed clear to their
summits with a beautiful forest of evergreens & carpeted with ferns & flowers. We
picked out a delightful clean little hotel which served good meals & was very reasonable.
After dinner, we started out to see the famous falls. These were superb; covered a distance of several hundred yards & fell in seven distinct cascades, any
one of which equals Minnehaha Colorado in its best days. I could not help thinking how Jule would sit "at gaze" by the hour. We exclaimed & wondered & then climbed on up the
mountain. Fritz slipped in one spot & broke his tripod, so pictures were suddenly stopped. The way
was a broad smooth path & the climbing easy. The summit, however was tree-covered
& permitted of no outlook. We sat in the pleasant woods, ate cherries & rested until
supper-time. After supper, the town band
---
16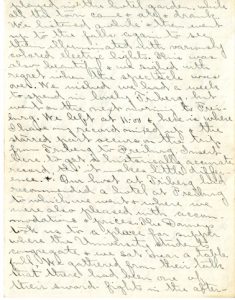 played in the hotel garden while all the town came & ate & drank. We listened awhile
& then went up to the falls again to see them illuminated with variously colored electric
lights. This was also beautiful & we sighed with regret when the spectacle was over.
We wished we had a week to spend in lovely Triberg, but went on the next morning to Freiburg. We left at 11:00 & here is where I have my record mixed up & the starred part occurs
on the trip from Triberg to Freiburg. Insert here to get a historically accurate record, tho' it makes little difference.*.
Our host at Triberg had recommended a hotel at Freiburg to which we went & where we were also pleased with accommodations & prices. The Downeys took us to a place for supper where the University students congregate & we sat near
a table full. We gathered from their talk that their had been one of their sword-fights
in the after-
---
17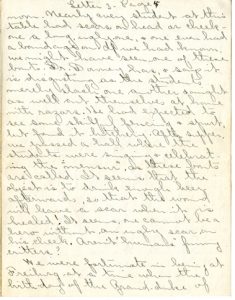 Letter 3 – page 4
noon. Nearly every student at this table had scars on head or cheek — one a large,
ugly one, & one even had a bandage on. If we had known we might have seen one of these
bouts. Dr. Downey has, & says it is disgusting as the students merely slash one another & might as
well cut themselves at home with razors. He had expected to see some skillful fencing
& sport, but found it butchery. After supper we passed a hall where the students were
singing & celebrating the "mensur", as these bouts are called. It seems that the object is to drink enough beer afterwards,
so that the wound will leave a scar when it is healed! It seems, one cannot be a hero
without an ugly scar on his cheek. Aren't "humans" funny critters?
We were fortunate in being at Freiburg at a time when the birth-day​ of the Grand-duke of
---
18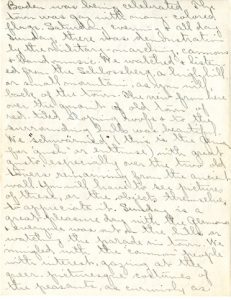 Baden was being celebrated. The town was gay with many-colored flags Saturday evening
& all day Sunday, there was demonstrations by the military-marching, commons & band
music. We watched & listened from the Schlossberg, a high hill or small mountain,
as you will, back of the town. The view from here over the quaint of old town of red-tiled
sloping roofs & to the surrounding hills was beautiful. We "schwärmed" (this is the German for "gush" or enthuse) with great gusto, especially over the
two old towers remaining from the ancient wall. You will have to see pictures of these,
or the objects themselves to appreciate it. Sunday is a great pleasure day with the
Germans & everyone was out on the hills or watching the parade in town. We mingled
with the "common" people with interest, gazing at the queer, picturesque costumes
of the peasants, as curiously as
---
19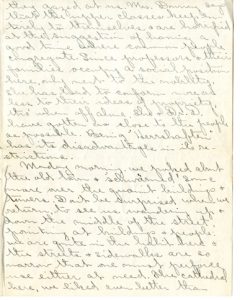 they gazed at us. Mrs. Downey says that the upper classes keep entirely to themselves & are horrified at the suggestion
of having a good time where common people congregate. Since professors & their families
occupy a social position here, only next to the nobility, she has had to conform more
or less to their ideas of propriety, tho' when all alone, she & Dr. D. have gotten as close to the people as possible. Being "Herrshaften" has its disadvantages in its restrictions.
Monday morning we poked about the old town & "schwärmed" some more over the granite buildings & towers. Don't be surprised when we return
to see us wandering up & down the middle of the street, pointing at buildings & people:
we are quite in the habit here & the streets & sidewalks are so narrow that one must
perforce use either at need. The cathedral here, we liked even better than
---
20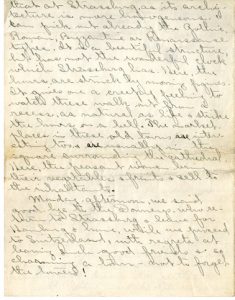 that at Strassburg, as its architecture is more homogeneous. I can pick out already the Gothic, Roman,
Byzantine or Renaissance types. It is a beautiful structure, but has not the wonderful
clock which Strassburg has. Here, the hours are struck by moving figures. It gives one a creepy feeling
to watch these walk out from a recess, as natural as life & strike the hours on a
bell. The market-places in these old towns are interesting too & are usually in the
square surrounding the cathedral. Here, the peasant women bring their vegetables &
fruits & to sell to the inhabitants.
Monday afternoon we said good-bye to the Downeys, who return to Strassburg & leave for Hamburg & home, which we proceed to Switzerland, with regrets at leaving such good friends & so charming a town — not to forget the
towers!