Great Nebraska
Naturalists and Scientists
NOU, F.L. Washburn, Letter, 1904, June 17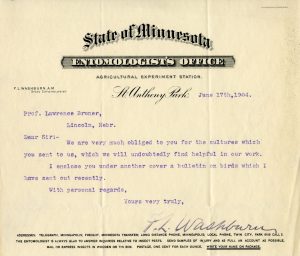 State of Minnesota Entomologist's Office Agricultural Experiment Station.
F. L. Washburn, A. M. State Entomologist
St. Anthony Park June 17th, 1904
Prof. Lawrence Bruner, Lincoln, nebr.
Dear Sir:- We are very much obliged to you for the cultures which you sent to us, which we will undoubtedly find helpful in our work. I enclose you under another cover a bulletin on birds which I have sent out recently. With personal regards, Yours very truly, F. L. Washburn
Addresses: Telegraph, Minneapolis, Freight, Minnesota Transfer; Long Distance Phone, Minneapolis, Local Phone, Twin City, Park 6155 Call 2, The Entomologist is always glad to answer inquiries relative to insect pests. Send samples of injury and as full an account as possible. Mail or express insects in wooden or tin box. Postage, one cent for each ounce. Write your name on package.