Great Nebraska
Naturalists and Scientists
Frank H. Shoemaker
Dundee, Hitchcock, Redwillow, Furnas Counties, 1912
---
cover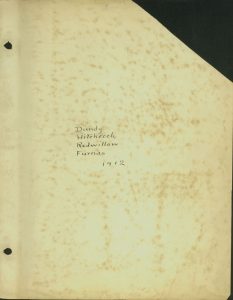 cover
---
1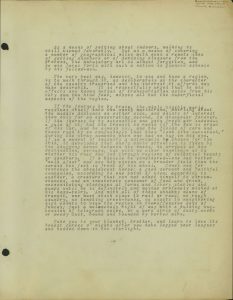 1
As a means of getting about indoors, walking is still viewed favorably. But as a means
of covering a number of geographical miles with even a remote idea of getting anywhere
or of deriving pleasure from the process, the ambulatory art is almost forgotten,
and he who fares forth with such a notion is glanced askance by his fellow-men.
The very best way, however, to see and know a region, is to walk through it, as deliberately
as the character of the country traversed and the interest it affords may make desitrable.
It is respectfully urged that he who affects any known method of transportation aside
from his very own two hind feet, misses all but the superficial aspects of the region.
If the journey be by train, the whole visible world resolves itself into two smoky
maelstroms, whirling about the middle distance on either side, and points of interest
show only for an exasperating second, to disappear forever. If the journey be by automobile
one gets gresh air indeed – – a gale of it; but the transit is rapid (if the Man is
proud of his Car, and he always is), and the field of corn and beans rush by so confusingly
that they "Look like succotash,"during the stray moments when one has no bug in his
eye.If in a moment of insanity a motorcycle be chosen for the trip, it developes that
one's whole attention is taken by the chugging demon between his knees; he arrives
at his destination, perhaps, but with no clear knowledge as to whether his road has
lead through regions of celestial beauty of sandburs. If a bicycle be considered —
one had better "walk a foot" and use his vision on a broader field than the sordid
ten feet in front of his wheel. Comes now for sentence the obsolescent horse: a good
servant and faithful companion, according to one point of view; according to another,
a creature that cannot adapt himself to circumstances, and an inveterate comsumer
of food and drink, necessitating stoppages at farmes and livery stables and pumps
until he is definitely and mayhap profanely wished at his hoss-telry. And with all
of these unhappy means of transit, one must stick close to rail or road; no rough
country, no tempting creek-banks, no visits to neighboring high points to view the
region in these offensive days of fences; just a melancholy right of way with a pulsing
succession of telegraph poles, or a worn strip of dusty weeds or weedy dust, bound
and bounded by barbed wire.
Take you to your blanket, brother, and learn to love its honest caress o' nights after
you have legged your leagues and bedded down in the starlight.
---
maps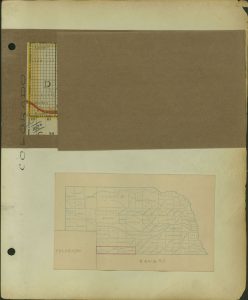 Maps
---

Maps
---
2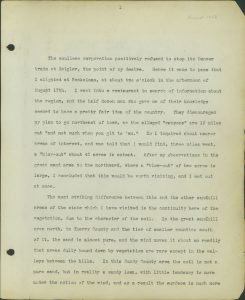 2
The soulless corporation positively refused to stop its Denver train at Haigler, the point of my desire. Hence it came to pass that I alighted at Benkelman, at about two o'clock in the afternoon of August 17th. I went into a restautant in
search of information about the region, and the half dozen men who gave me of their
knowledge seemed to have a pretty fair idea of the country. They discouraged my plan
to go northeast of town, as the alleged "canyons" are 12 miles out "and not much
when you git to 'em." So I inquired about nearer areas of interest, and was told that
I would find, three miles west, a "blow-out" about 40 acres in extent. After my observations
in the great sand area to the northward, where a "blow-out" of two acres is large,
I concluded that this would be worth visiting, and I set out at once.
The most striking difference between this and the other sandhill areas of the state
which I have visited is the continuity here of the vegetation, due to the character
of the soil. In the great sandhill area north, in Cherry County and the tier of smaller counties south of it, the sand is almost pure, and the wind
moves it about so readily that areas fully bound down by vegetation are rare except
in the valleys between the hills. In this Dundee County area the soil is not a pure sand, but in reality a sandy loam, with little tendency
to move under the action of the wind, and as a result the surface is much more
---
3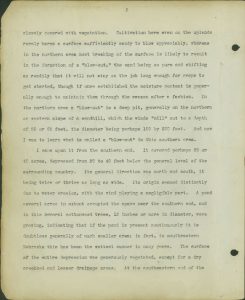 3
closely covered with vegetation. Cultivation here even on the uplands rarely bares
a surface sufficiently sandy to blow appreciably, whereas in the northern area most
breaking of the surface is likely to result in the formation of a "blow-out," the
sand being so pure and shifting so readily that it will not stay on the job long enough
for crops to get started, though if once established the moisture content is genrally
enough to maintain them through the season after a fashion. In the northern area a
"blow-out" is a deep pit, generally on the northern or western slope of a sandhill,
which the winds "mill" out to a depth of 50 or 60 feet, the diameter being perhaps
100 by 200 feet. And now I was to learn what is called a "blow-out" in this southern
area.
I came upon it from the southern end. It covered perhaps 30 or 40 acres, depressed
from 20 to 40 feet below the general level of the surrounding country. Its general
direction was north and south, it being twice or thrice as long as wide. Its origin
seemed distinctly due to water erosion, with the wind playing a negligible part. A
pond several acres in extent occupied the space near the southern end, and in this
several cottonwood trees, 12 inches or more in diameter, were growing, indicating
that if the pond is present continuously it is doubless generally of much smaller
area; in fact, in southwestern Nebraska this has been the wettest summer in many years.
The surface of the entire depression was generously vegetated, except for a dry creekbed
and lesser drainage areas. At the southeatern end of the
---
3a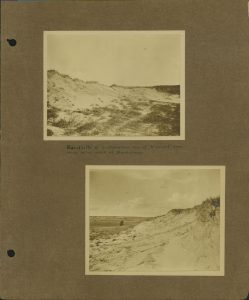 Sandhills at southeastern end of "blowout" and three miles west of Beneklman
3a
---
3b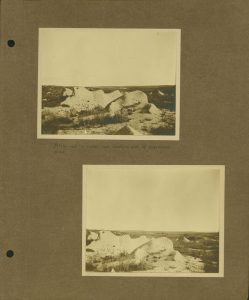 3b
---
3c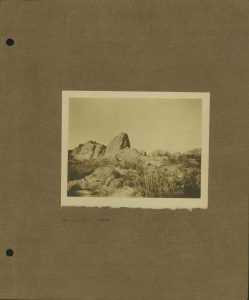 3c
---
3d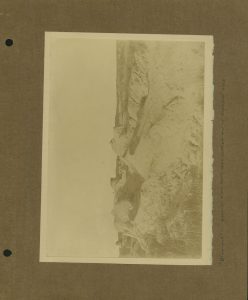 3d
---
4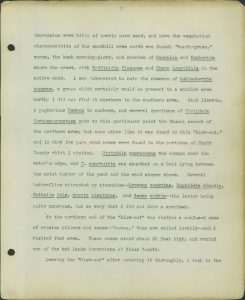 4
depression were hills of nearly pure sand, and here the vegetation characteristic
of the sanhil area north was found; "bunch-grass," yucca, the bush morning-glory,
and species of Psoralea and Euphorbia above the crest, with Redfieldia flexuosa and Phaca longifolia in the active sand. I was interested to note the abscence of Muhlengergia pungens, a grasss which certainly would be present in a smilar area north; I did not find
it anywere in the southern area. Sand lizards, a pugnacious Bembex in numbers, and several specimens of Cicindela formosa-generosa gave to this particular point the faunal aspect of the northern area; but none other
like it was found in this "blow-out," and in fact few pure sand areas were found in
the portions of Dundy County which I visited. Cicindela cuprascens was common near the water's edge, and C. punctulata was abundant on a belt lying betwen the moist border of the pond and the sand slopes
above. Several butterflies attracted my attention–Lycaena comyntas, Euptoieta claudia, Nathalis iole, Anosia plexippus, and Aenea andria–the latter being quite numerous, but so wary that I did not take a specimen.
At the northern end of the "blow-out" was visible a confused mass of erosion pillars
and cones–"cores," they are called locally–and I visited that area. These cones
stand about 20 feet high, and remind one of the band lands formation of Sioux County.
Leaving the "blow-out" after covering it thoroughly, I took to the
---
5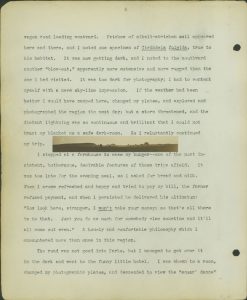 5
wagon road leading westward. Patches of alkali-stricken soil appeared here and there,
and I noted one specimen of Cicindela fulgida, true to his habitat. It was now getting dark, and I noted to the southward another
"blow-out," apparently more extensive and more rugged than the one I had visited.
It was too dark for photography; I had to content myself with a mere sky-line impression.
If the weather had been better I would have camped here, changed my plates, and explored
and photographed the region the next day; but a storm threatened, and the distant
lightning was so continous and brilliant that I could not trust my blanket as a safe
dark-room. So I reluctantly continued my trip.
I stopped at a farmhouse to ease my hunger–one of the most insistent, bothersome,
desirable featurse of these trips afield. It was too late for the evening meal, so
I asked for bread with milk. When I arose refreshed and happy and tried to pay my
bill, the farmer refused payment, and when I persisted he delivered his ultimatum:
"Now look here, stranger, I won't take your money; so that's all there is to that. Just you do as much of somebody
else sometime and it'll all come out even." A homely and comfortable philosophy which
I encountered more than once in this region.
The road was not good into Parks, but I managed to get over it in the dark and went to the funny little hotel. I was
shown to a room, changed my photographic plates, and descended to view the "squar'
dance"
---
6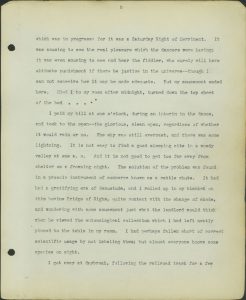 6
which was in progress; for it was a Saturday Night of Merriment. It was amusing to
see the real pleasure which the dancers were having; it was even amusing to see and
hear the fiddler, who surely will have ultimate pumishment if there be justice in
the universe–though I can not conceive how it may be made adequate. But my amusement
ended here. Hied I to my room after midnight, turned down the top sheet of the bed
* * * * *
I paid my bill at one o'clock, during an interim in the dance, and took to the open–
the glorious, clean open, regardless of whether it would rain or no. The sky was still
overcast, and there was some lightning. It is not easy to find a good sleeping site
in a weedy valley at 1 a.m. And it is not good to get too far away from shelter on
a frowning night. The solution of the problem was found in a prosaic instrument of
commerce known as a cattle chute. It has a gratifying era of desuetude, and I rolled
up in my blanket on this bovine Bridge of Sighs, quite content with the change of
abode, and wondering with some amusement just what the landlord would think when he
viewed the entomological collection which I had left neatly pinned to the table in
my room. I had perhaps fallen short of correct scientific usage by not labeling them;
but almost everyone knows some species on sight.
I got away at daybreak, following the railroad track for a few
---
7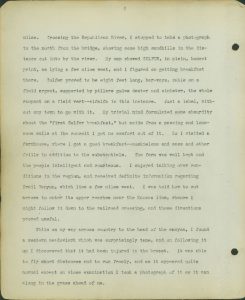 7
miles. Crossing the Republican River, I stopped to take a photograph to the north from the bridge, showing some high sandhills
in the distance cut into by the river. My map showed COLFER, in plain, honest print,
as lying a few miles west, and I figured on getting breakfast there. Colfer proved
to be eight feet long, bar-ways, sable on a field argent, supported by pillars gules
dexter and sinister, the whole rampant on a field vert– alfalfa in this instance.
Just a label, without any town to go with it. My trivial mind formulated some absurdity
about the "first Colfer breakfast," but aside from a passing and lonesome smile at
the conceit I got no comfort out of it. So I visited a farmhouse, where I got a good
breakgast–muskmelons and sass and other frille in addition to the substantials. The
farm was well kept and the people intelligent and courteous. I enjoyed talking over
conditions in the region, and received definite information regarding Trail Canyon, which lies a few miles west. I was told how to cut across to enter its upper reaches
newar the Kansas line, whence I might follow it down to the railroad crossing, and these directions
proved useful.
While on my way across country to the head of the canyon, I found a western meadowlark which was surprisingly tame, and on following it up I discovered that it had been
injured in the breast. It was able to fly short distances and to run freely, and as
it appeared quite normal except on close examination I took a photograph of it as
it ran along the grass ahead of me.
---
7a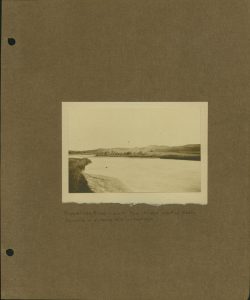 7a
---
Republican River north from bridge west of …. Sandhills in distance…. feet high.
---
7b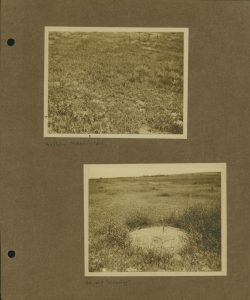 Western Meadowlark
An ant "clearing"
7b
---
8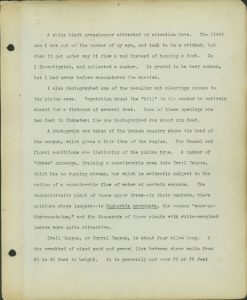 8
A shiny black grasshopper attracted my attention here. The first one I saw out of
the corner of my eye, and took to be a cricket; but when it got under way it flew
a rod instead of hopping a foot. So I investigated, and collected a number. It proved
to be very common, but I had never before encountered the species.
I also photographed one of the peculiar and clearing common to the plains area. Vegetatin
about the "hill" in the center is entirely absent for a distance of several feet.
Some of these openings are ten feet in diameter; the one photographed was about six
feet.
A photograph was taken of the broken country above the head of the canyon, which gives
a fair idea of the region. The faunal and floral conditions are distinctly of the
plains type. A number of "draws" converge, draining a considerable area into Trail Canyon, which has no running stream, but which is evidently subject to the action of a considerable
flow of water at certain seasons. The characteristic plant of these upper draws–in
their centers, where moisture stays longest–is Euphorbia marginata, the common "snow-on-the-mountains," and the thousands of these plants with white-margined
leaves were quite attractive.
Trail Canyon, or Corral Canyon, is about four miles long. A dry creekbed of mixed sand and gravel lies between sheer
walls from 20 to 40 feet in height. It is generally not over 60 or 75 feet
---
9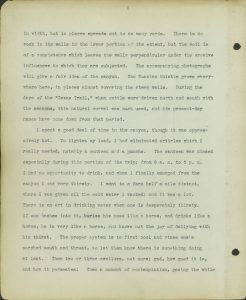 9
in width, but in places spreads out to as many yards. There is no rock in its walls
in the lower portion of its extent, but the soil is a consistency which leaves the
walls perpendicular under the erosive influences to which they are subjected. The
accompanying photographs will give a fair idea of the canyon. The Russian thistle
grows everywhere here, in places almost covering the steep walls. During the days
of the "Texas Trail," when cattle were driven north and south with the seasons, this
natural corral was much used, and its present-day names have come down from that period.
I spent a good deal of time in the canyon, though it was oppressively hot. To lighten
my load, I had eliminated articles which I really needed, notably a canteen and a
poncho. The canteen was missed especially during this portion of the trip; from 8
a.m. to 3 p.m. I had no opportunity to drink, and when I finally emerged from the
canyon I was very thirsty. I went to a farm half a mile distant, where I was given
all the cold water I wanted; and it was a lot. There is an art in drinking water when
one is desperately thirsty. If one dashes into it, buries his nose like a horse, and
drinks like a horse, he is very like a horse, and knows not the joy of dallying with
his thirst. The proper system is to first cool and rinse one's parched mouth and throat,
to let them know there is something doing at last. Then two or three swallows, not
more; gad, how good it is, and how it permeates! Then a moment of contemplation, gazing
the while
---
9a
Broken region above (?) head of Trail Canyon View South
9a
---
9b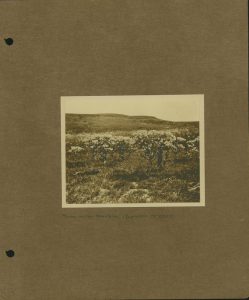 "Snow on the Mountain" (Euphorbia maginata)
9b
---
9c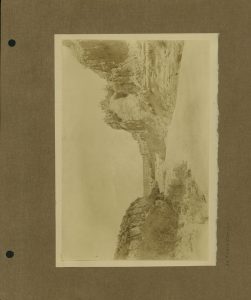 In Trail Canyon
9c
---
9d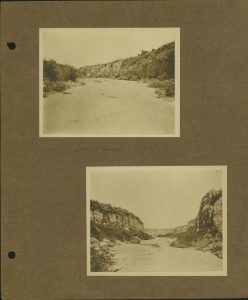 In Trail Canyon
9d
---
9e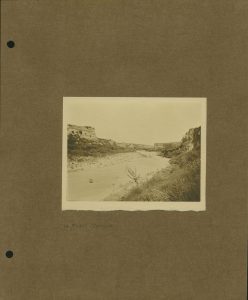 In Trail Canyon
9e
---
10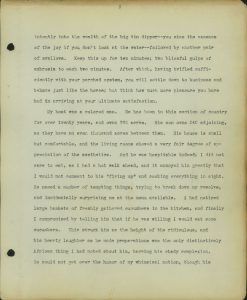 10
intently into the wealth of the big tin dipper–you miss the essence of the joy if
you don't look at the water–followed by another pair of swallows. Keep this up for
ten minutes; two blissful gulps of ambrosia to each two minutes. After which, having
trifled sufficiently with your parched system, you will settle down to business and
behave just like the horse; but think how much more pleasure you have had in arriving
at your ultimate satisfaction.
My host was a colored man. He has been in this section of country for over twenty
years, and owns 760 acres. His son owns 240 adjoining, so they have an even thousand
acres between them. His house is small but comfortable, and the living rooms showed
a very fair degree of appreciation of the aesthetics. And he was hospitable indeed;
I did not care to eat, as I had a hot walk ahead, and it annoyed him greatly that
I would not consent to his "firing up" and cooking everything in sight. He named a
number of tempting things, trying to break down my resolve, and incidentally surprising
me at the menu available. I had noticed large baskets of freshly gathered cucumbers
in the kitchen, and finally I compromised by telling him that if he was willing I
would eat some cucumbers. This struck him as the height of the ridiculous, and his
hearty laughter as he made preparations was the only distinctively African thing I
had noted about him, barring his shady complexion. He could not get over the hunor
of my whimsical notion, though his
---
11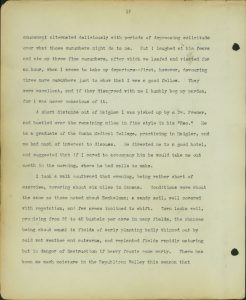 11
amusement alternated deliciously with periods of depressing solicitude over what those
cucumbers might do to me. But I laughed at his fears and ate my three fine cucumbers,
after which we loafed and visited for an hour, when I arose to take my departure–first,
however, devouring three more cucumers just to show that I was a good fellow. They
were excellent, and if they disagreed with me I humbly beg my pardon, for I was never
conscious of it.
A short distance out of Haigler I was picked up by a Dr. Premer, and hustled over the remaining miles in fine style in his "Reo." He is a graduate
of the Omaha Medical College, practicing in Haigler, and we had much of interest to discuss. He directed me to a good hotel, and suggested
that if I cared to accompany him he would take me out north in the morning, where
he had calls to make.
I took a walk southward that evening, being rather short of exercise, covering about
six miles in Kansas. Conditions were about the same as those noted about Henkelman; a sandy soil, well covered with vegetation, and few areas inclined to shift. Corn
looks well, promising from 30 to 40 bushels per acre in many fields, the chances being
about equal in fields of early planting badly thinned out by cold wet weather and
cutworms, and replanted fields rapidly maturing but in danger of destruction if heavy
frosts come early. There has been so much moisture in the Republican Valley this season that
---
12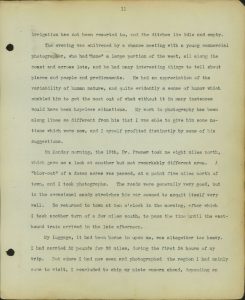 12
irrigation has not been resorted to, and the ditches lie idle and empty.
The evening was enliveded by a chance meeting with a young commercial photographer,
who had "done" a large portion of the west, all along the coast and across lots, and
he had many interesting things to tell about places and people and predicaments. He
had an appreciation of the variability of human nature, and quite evidently a sense
of humor which enabled him to get the most out of what without it in many instances
would have been hopeless situations. My work in photography has been along lines so
different from his that I was able to give him some notions which were new, and I
myself profited distinctly by some of his suggestions.
On Monday morning, the 19th, Dr. Premer took me eight miles north, which gave me a look at another but not remarkably different
area. A "blow-out" of a dozen acres was passed, at a point five miles north of town,
and I took photographs. The roads were generally very good, but in the occasional
sandy stretches his car seemed to acquit itself very well. We returned to town at
ten o'clock in the morning, after which I took another turn of a few miles south,
to pass the time until the east bound train arrived in the late afternoon.
My luggage, it had been borne in upon me, was altogether too heavy. I had carried
32 pounds for 36 miles, during the first 24 hours of my trip. But since I had now
seen and photographed the region I had mainly come to visit, I concluded to ship my
plate camera ahead, depending on
---
13
13
my kodak (sic) for the time, and to send back to Lincoln a lot of collecting material,
specimens, exposed films and plates, etc. So after leaving Haigler my load was reduced to 15 pounds, which seemed inadequate.
I reached Benkelman before seven o'clock, had "supper," and then, as there was a pretty fair moon, I
concluded to go on, having noted from the train on my westward trip that there was
nothing of surpassing interest visible in this region. So I took to the road, and
walked ten miles, to Max. The road was good, the light was sufficient, the air was bracing, and the trip was
delightful. Arriving at Max, and finding that the hour of 9:30 was too late for any of its upright citizens to
be abroad, I went on a still-hunt for a pump, anathematizing the while, without naming
anybody, whoso would be so improvident as to go anywhere without a canteen. I tried
back yards, front yards, porches; I did all but break and enter, in search of a pump.
It was the dryest town I ever visited; but early I was impressed by the fact that
in still another way it was unique; it was not only pumpless, but pupless. Not once
in all my suspicious prowling was I disturbed by the raucous dissonance of a dog,
watch-, bull-, or lap-. I sadly returned to the tracks, there to pencil a few last
words and lay me down to die of thirst, when in my delirium I noted a livery stable–a
trough–a minute excrescence on the end there of which might be, and laus deus, which
was, a pump, broad of mouth and connected with a sufficient supply of alkaline water
to prolong my miserable existence. And the gods or somebody had hauled in from the
---
13a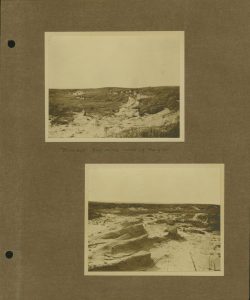 "Blowout" five miles north of Hangler (?)
13a
---
13b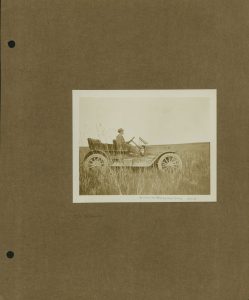 Dr. (?)
13b
---
13c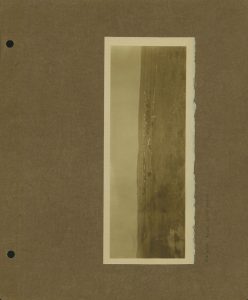 Dr. (?)
13c
---
14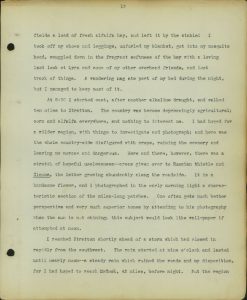 14
fields a load of fresh alfalfa hay, and left it by the stable! I took off my shoes
and leggins, unfurled my blanket, got into my mosquito hood, snuggled down in the
fragrant softness of the hay with a loving last look at Lyra and some other overhead
friends, and lost track of things. A wandering nag ate part of my bed during the night,
but I managed to keep most of it.
At 5:30 I started east, after another alkaline draught, and walked ten miles to Stratton. The country was become depressingly agricultural; corn and alfalfa everywhere, and
nothing to interest me. I had hoped for a wilder region, with things to investigate
and photograph; and here was the country-side disfigured with crops, ruining the scenery
and leaving me morose and dangerous. Here and there, however, there was a stretch
of hopeful uselessness–areas give over to Russian thistle and Cleome, the latter growing abundantly along the roadside. It is a handsome flower, and I
photographed in the early morning light a characteristic section of the miles-long
patches. One often gets much better perspective and very much superior tones by attending
to his photography when the sun is not shining; this subject would look like wall-paper
if attempted at noon.
I reached Stratton shortly ahead of a storm which has closed in rapidly from the southwest. The rain
started at nine o'clock and lasted until nearly noon–a steady rain which ruined the
roads and my disposition, for I had hope to reach McCook, 42 miles, before night. But the region
---
15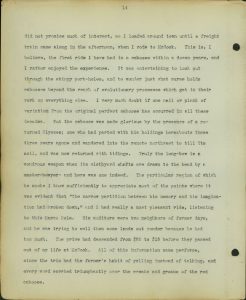 15
did not promise much of interest, so I loafed around town until a freight train came
along in the afternoon, when I rode to McCook. This is, I believe, the first ride I have had in a caboose within a dozen years,
and I rather enjoyed the experience. It was entertaining to look out through the stingy
port-holes, and to wonder just what curse holds cabooses beyond the reach of evolutionary
processes which get in their work on everything else. I very much doubt if one nail
or plank of variation from the original perfect caboose has occurred in all these
decades. But the caboose was made glorious by the presence of a returned Ulysses;
one who had parted with his holdings hearabouts these three years agone and wandered
into the remote northwest to till its soil, and was now returned with tidings. Truly
the long-bow is a wondrous weapon when its clothyard shafts are drawn to the head
by a master-bowyer: and here was one indeed. The particular region of which he spoke
I know sufficiently to appreciate most of the points where it was evident that "the
narrow partition between his memory and his imagination had broken down," and I had
really a most pleasant ride, listening to this Marco Polo. His auditors were two neighbors
of former days, and he was trying to sell them some lands out yonder because he had
too much. The price had descended from $50 to $15 before they passed out of my life
at McCook. All of this information came perforce, since the trio had the farmer's habit of
yelling instead of talking, and every word carried triumphantly over the creaks and
groans of the red caboose.
---
15a
Dr. (?)
15a
---
16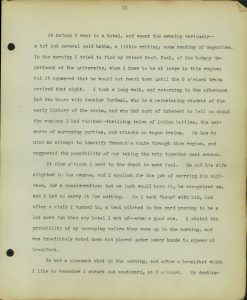 16
At McCook I went to a hotel, and spent the evening variously–a hot and several cold baths,
a little writing, some reading of magazines. In the morning I tried to find my friend
Prof. Pool, of the botany department at the university, whom I knew to be at large in this region;
but it appeared that he would not reach town until the 9 o'clock train arrived that
night. I took a long walk, and returning in the afternoon had two hours with Senator Cordeal, who is a painstaking student of the early history of the state, and who had much
of interest to tell me about the regions I had visted–thrilling tales of Indian battles,
the massacre of surveying parties, and attacks on wagon trains. He has in mind an
attempt to identify Fremont's route through this region, and suggested the possibility
of our taking the trip together next season.
At nine o'clock I went to the depot to meet Pool. He and his wife alighted in due course, and I applied for the job of carrying his
suitcase, for a consideration, but as luck would have it, he recognized me, and I
had to carry it along for nothing. So I went "home" with him, and after a visit I
turned in, a tent pitched in the yard proving to be a lot more fun than any hotel
I wot of–even a good one. I stated the probability of my decamping before they were
up in the morning, and was immediately voted down and placed under heavy bonds to
appear at breakfast.
We had a pleasant chat in the morning, and afer a breakfast which I like to remember
I struck out southward, at 9 o'clock. My destinat-
---
17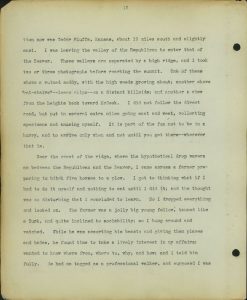 17
tion now was Cedar Bluffs, Kansas, about 19 miles south and slightly east. I was leaving the valley of the Republican
to enter that of the Beaver. These valleys are separated by a high ridge, and I took
two or three photographs before reaching the summit. One of these shows a ruined soddy,
with the high weeds growing about; another shows "cat-stairs"–loess slips–on a distant
hillside; and another a view from the heights back towards McCook. I did not follow the direct road, but put in several extra miles going east and
west, collecting specimens and amusing myself. It is part of the fun not to be in
a hurry, and to arrive only when and not until you get there–wherever that is.
Near the crest of the ridge, where the hypothetical drop wavers as between the Republican
and the Beaver, I came across a farmer preparing to hitch five horses to a plow. I
got to thinking what if I had to do it myself and nothing to eat until I did it; and
the thought was so disturbing that I concluded to learn. So I dropped everything and
looked on. The farmer was a jolly big young fellow, tanned like a Turk, and quite
inclined to sociability; so I hung around and watched. While he was assorting his
beasts and giving them places and hades, he found time to take a lively interest in
my affairs; want to know where from, where to, why, and how; and I told him fully.
He had tagged me as a professional walker, and supposed I was
---
17a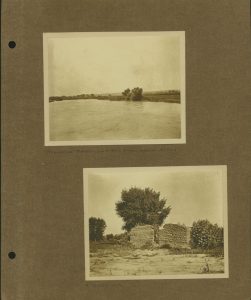 "Blowout" five miles north of Hangler?????
17a
---
17b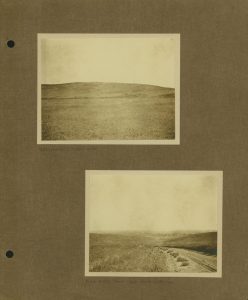 17b
---
17c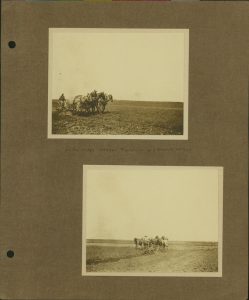 17c
---
18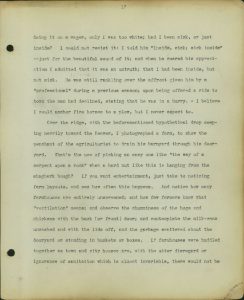 18
doing it on a wager, only I was too white; had I been sick, or just inside? I could
not resist it: I told him "Inside, sick; sick inside" –just for the beautiful sound
of it; and when he roared his appreciation I admitted that it was an untruth; that
I had been inside, but not sick. He was still rankling over the affront given him
by a "professional" during a previous seasons; upon being offered a ride to town the
man had declined, stating that he was in a hurry. — I believe I could anchor five
horses to a plow, but I never expect to.
Over the ridge, with the beforementioned hypothetical drop seeping merrily toward
the Beaver, I photographed a farm, to show the penchant of the agriculturalist to
drain his barnyard through his dooryard. What's the use of picking an easy one like
"the way of a serpent upon a rock" when a hard nut like this is hanging from the shagbark
bough? If you want entertainment, just take to noticing farm layouts, and see how
often this happens. And notice how many farmhouses are entirely unscreened; and how
few farmers know what "ventilation" means; and observe the chumminess of the hogs
and chickens with the back (or front) door; and contemplate the milk-cans unwashed
and with the lids off, and the garbage scattered about the dooryard or standing in
buckets or boxes. If farmhouse were huddled together as town and city houses are,
with the utter disregard or ignorance of sanitation which is almost invariable, there
would not be
---
19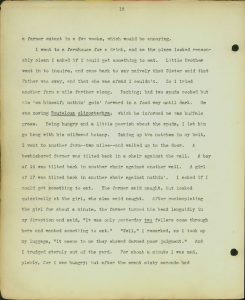 19
a farmer extent in a few weeks, which would be annoying.
I went to a farmhouse for a drink, and as the place looked reasonably clean I asked
if I could get something to eat. Little Brother went in to inquire, and came back
to say naively that Sister said that Father was away, and that she was afraid I couldn't.
So I tried another farm a mile farther along. Baching; had two spuds cooked but ate
'em himself; nothin' goin' forward in a food way until dark. He was mowing Bouteloua oligostachya, which he informed me was buffalo grass. Being hungry and a little peevish about
the spuds, I let him go hang with his mildewed botany. Taking up two notches in my
belt, I went to another farm–two miles–and walked up to the door. A bewhiskered
farmer was tilted back in a chair against the wall. A boy of 14 was tilted back in
another chair against another wall. A girl of 17 was tilted back in another chair
against nothin'. I asked if I could get something to eat. The farmer said naught,
but looked quizzically at the girl, who also said naught. After contemplating the
girl for about a minute, the farmer turned his head languidly in my direction and
said, "It was only yesterday two fellers come through here and wanted something to eat." "Well," I remarked, as I
took up my luggage, "it seems to me they showed darned poor judgement." And I trudged
sternly out of the yard. For about a minute I was mad, plenty, for I was hungry; but
after the scant sixty seconds had
---
19a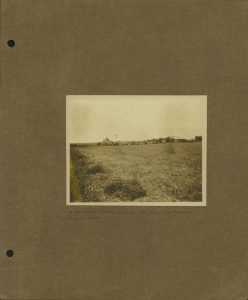 A Nebraska farm showing …..
19a
---
20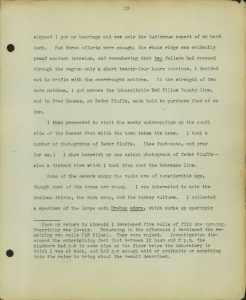 20
elapsed I got my bearings and saw only the ludicrous aspect of my hard luck. But three
efforts were enough; the whole ridge was evidently proof against invasion, and remembering
that two fellers had ravened through the region only a short twenty-four hours previous, I
decided not to trifle with the overwrought natives. On the strength of two more notches,
I got across the inhospitable Red Willow county line, and in free Kansas, at Cedar Bluffs, made bold to purchase food at an inn.
I then proceeded to visit the rocky outcroppings on the south side of the Beaver from
which the town takes its name. I took a number of photographs of Cedar Bluff (see foot-note, and pray for me.) I show herewith my one extant photograph of Cedar Bluff–also a distant view with I took from near the Nebraska line.
Some of the cedars among the rocks are of considerable age, though most of the trees
are young. I was interested to note the Mexican falcon, the rock wren, and the turkey
vulture. I collected a specimen of the large moth Erebus odora, which works up sparingly
Upon my return to Lincoln I developed five rolls of film one morning. Everything was lovely. Returning in the
afternoon I developed the remaining two rolls (18 films). They were ruined. Investigation
disclosed the entertaining fact that between 12 noon and 2 p.m. the plumbers had put
in some pipe on the floor below the laboratory in which I was at work, and had got
enough acid or profanity or something into the water to bring about the result described.
---
21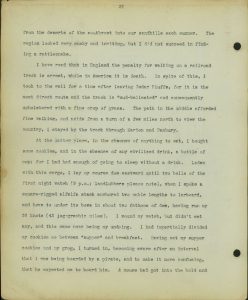 21
from the deserts of the southwest into our sandhills each summer. The region looked
very snaky and inviting, but I did not succeed in finding a rattlesnake.
I have read that in England the penalty for walking on a railroad track is arrest,
while in American it is death. In spite of this, I took to the rail for a time after
leaving Cedar Bluff, for it is the most direct route and the track is "mud-ballasted" and consequently
upholstered with a fine crop of grass. The path in the middle afforded fine walking,
and aside from a turn of a few miles north to view the country, I stayed by the track
through Marion and Danbury.
At the latter place , in the absence of anything to eat, I bought some cookies, and
in the absence of any civilized drink, a bottle of pop; for I had had enough of going
to sleep without a drink. Laden with this cargo, I lay my course due eastward until
two bells of the first night watch (9 p.m.; landlubbers please note), when I spoke
a square-rigged alfalfa stack anchored two cable lengths to larboard, and hove to
under its bows in about two fathoms of dew, having run my 36 knots( 42 jog-graphic
miles). I wound my watch, but didn't set any, and this came near being my undoing.
I had impartially divided my cookies as between "supper" and breakfast. Having eat
my supper cookies and my grop, I turned in, becoming aware after an interval that
I was being boarded by a pirate, and to make it more confusing, that he expected me
to board him. A mouse had got into the hold and
---
21a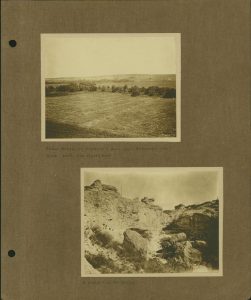 Cedar Bluffs in distance…..
A…..
21a
---
22
22
was making away with my breakfast. I repelled the boarder; then I got out a cookie,
broke off a piece, and put it down in the moonlight where I could watch it. Presently
the marauder came hitching along, and carried it away. So I gave him another piece,
and he carried it away; and so on until I finally went to sleep— —if I remember rightly,
with about half of the cookie in my fingers, in which event he must have taken liberties
with me, for it was not there in the morning.
That was a fine night, there on the south side of the stack. I had pulled down enough
alfafa to make a soft bed, and rolled up in my blanket on this. The night was perfect;
the moon almost full and very brilliant; the constellations Scorpio and Sagittarius,
which I like more than all the rest, showed clearly in spite of the bright moon. It
was great; the beautiful night, the comfortable bed, the wholesome fatigue, the profound
sense of physical well-being, the companionable mousie, all.
I have previously mentioned my mosquito hood, but only incidentally, and it certainly
deserves a few words, since it is indispensable to one's comfort on a trip of this
character. It is a contrivance of three flexible steel hoops, sewed parallel to each
other four inches apart, on the inside of a cylindrical bobbinet hood with a closed
top, sixteen inches in diameter and two feet "high." The steel is so flexible that
the whole may be folded in small compass and put in a pocket. Getting into this affair
and tucking the skirts into the top
---
21a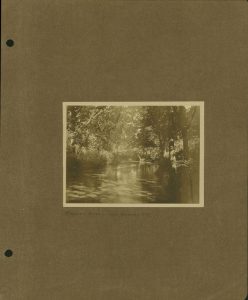 Beaver Creek (?) — near Beaver City
22a
---
23
23
of one's blanket, the wires hold the bobbinet several inches from one's face and ears,
and forthwith the murderous soprano of my lady Anopheles becomes sweet music. Every night I spent out the mosquitoes were abundant and bloodthirsty,
and without the hood my rest would have been badly broken. And it keeps off larger
prowlers also, when I awakened in the morning there were generally a number of grasshoppers
walking around on it, looming large against the sky.
I awakened entirely refreshed at 6 o'clock, and after partaking of my jealously protected
breakfast I started anew down the upholstered track. The disgustingly fertile condition
of the country continued, and increased, and I found little to interest me; for I
can find nearer home all the cornfields I need. I followed the track most of the day,
making a detour of a few miles north of Wilsonville, but finding nothing to pary for the extra miles. I took several photographs showing
agricultural and other conditions, but these do not appear, for reasons touched upon
in carefully guarded language on page 19.
At 4:30 I reached Beaver City, to which point I had shipped my camera and some clothing a trifle more conventional
that that I was wearing; for I had anticipated that the interest of the walking tour
would pale at about this point. The 78 miles I had walked in the past two days had
not exhausted me physically, but the cornfields had, and I was ready to quit walking.
---
24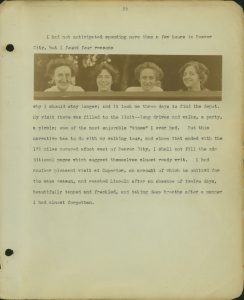 24
I had not anticipated spending more than a few hours in Beaver City, but I found four reasons
why I should stay longer; and it took me three days to find the depot. My visit there
was filled to the limit — —long drives and walks, a party, a picnic; one of the most
enjoyable "times" I ever had. But this narrative has to do with my walking tour, and
since that ended with the 170 miles covered afoot west of Beaver City, I shall not fill that additional pages which suggest themselves almost ready writ.
I had another pleasant visit at Superior, an account of which is omitted for the same reason, and reached Lincoln after an absense of twelve days, beautifully tanned and freckled, and taking deep
breaths after a manner I had almost forgotten.