Great Nebraska
Naturalists and Scientists
NOU, J.B. Redfield, Letter, 1904, July 11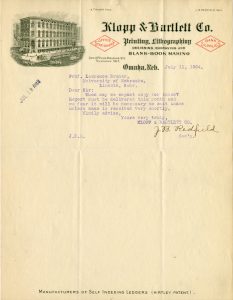 A. T. Klopp, Pres. J. B. Redfield, Secy
Klopp & Bartlett Co. Printing, Lithographing Designing, Engraving and Blank-Book Making
Office Stationery Bank Supplies
Cor. 10th and Douglas Sts. Telephone 364.
Omaha, Neb. July 11, 1904
Jul 19 Ans'd
Prof. Lawrence Bruner, University of Nebraska, Lincoln, Nebr.
Dear Sir: When may we expect copy for index? Report must be delivered this month and we fear it will be necessary to omit index unless same is received very shortly. Kindly advise, Yours very truly, Klopp & Bartlett Co. J. B. Redfield Sec'y.
J.B.R.