Great Nebraska
Naturalists and Scientists
NOU, Lawrence Bruner, Letter, 1905, June 23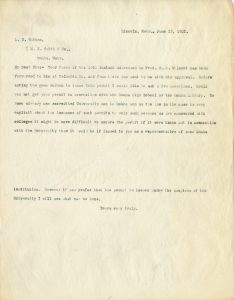 Lincoln, Nebr., June 23, 1905.
L. R. Sabine, % M. E. Smith & Co., Omaha, Nebr.
Dear Sir:- Your favor of the 10th instant addressed to Prof. R. H. Wolcott has been forwarded to him at Columbia Mo. and from there was sent to me with his approval. Before asking the game warden to issue this permit I would like to ask a few questions. Could you not get your permit in connection with the Omaha High School or the Omaha Library. We have already one accredited University man in Omaha and as the law in the case is very explicit about the issuance of such permits to only such persons as are connected with colleges it might be more difficult to secure the permit if it were taken out in connection with the University than it would be if issued to you as a representative of some Omaha
institution. However, if you prefer that the permit be issued under the auspices of the University I will see what can be done. Yours very truly.