Great Nebraska
Naturalists and Scientists
NOU, R.A. Cooley, Letter, 1905, Dec. 30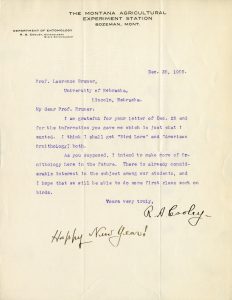 The Montana Agricultural Experiment Station Bozeman, Mont.
Department of Entomology R.H. Cooley, Entomologist, State Entomologist
Dec. 30, 1905
Prof. Lawrence Bruner, University of Nebraska, Lincoln, Nebraska.
My dear Prof. Bruner: I am grateful for you letter of Dec. 25 and for the information you gave me which is just what I wanted. I think I shall get "Bird Lore" and "American Ornithology", both. As you supposed, I intend to make more of Ornithology here in the future. There is already considerable interest in the subject among our students, and I hope that we will be able to do some first class work on birds. Yours very truly, R. A. Cooley- Happy New Year!