Great Nebraska
Naturalists and Scientists
NOU, Wells W. Cooke, Letter, 1905, Sept. 7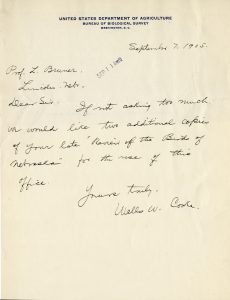 United States Department of Agriculture Bureau of Biological Survey Washington, D. C.
September 7, 1905. Prof. L. Bruner Lincoln, Nebr.
Dear Sir. If not asking too much we would like two additional copies of your late "Review of the Birds of Nebraska" for the use of this office. Yours truly, Wells W. Cooke.