Great Nebraska
Naturalists and Scientists
Edith Schwartz Clements
Letters, 1911
July 20, 1911
---
1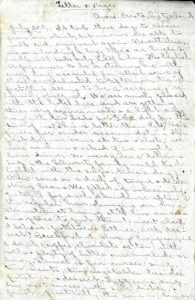 Letter 5 – page 1.
Avers Cresta, Switzerland
July 20th: It took three days to recover from our climb, but now we are able to walk with enjoyment
again. Nevertheless, we are leading a lazy life & our longest walk will take only
half a day. The English trip promises to be a strenuous one with every hour accounted
for albeit some of these are dedicated to afternoon tea. In fact this seems to be
a ceremony religiously observed. We are much pleased with the hotel here, and are
getting three very square meals & a light airy room with two beds for $3.00 a day
for the two of us! This is better than Estes Park prices for cruder accomodations. The first day we came at two o'clock, we were ravenous
& asked if we might have dinner. We were given a delicious soup (the Schwartz family would be delight with the soups: twice a day) & there came on a dish of tongue
& tender string beans. We filled up voraciously, grateful for such abundance after
the regular hour. Imagine our consternation at having still two courses & no place
to put them! — meat — beef, I believe, potatoes & lettuce, with dessert! Breakfast
is always European, i.E. a drink (coffee, chocolate or tea) with rolls & plenty of
butter & marmalade or honey. Dinner is four courses; soup, two meats, two vegetables
besides potatoes, & dessert. Supper is soup, two meat courses with side dishes, &
fruit — practically the same as dinner.
---
2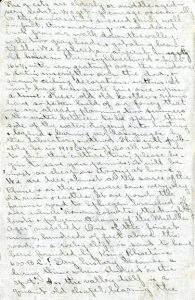 The guests are elderly or middle aged — very sedate. We get up courage occasionally
to try conversation & succeed fairly well. In fact, this morning, we wandered back
from our walk down the valley, with two gray-heads, & got along beautifully. We explored
an ancient, musty old house in the neighborhood — built 1664, with iron gratings over
the windows a Latin inscription over the door, & quaint ceiling decorations within.
It must have been quite fine once upon a time. These old old castles & ruins have
so taken hold of our fancy that we are already planning two summers & the winter between
to be spent this side of the water digging into history & legend & learning our languages
by the laboratory method. This will probably be in 1915 (spring), so all who wish
to join this "culture tour," please begin to save your pennies: it will be 'most as
cheap, as staying at home. We are here, almost at the source of the Rhine & on the
way were some very, very old ruins & castles; at one point the famous road to Spluegen branched off over which "Roman cohorts, the knightly hosts & pilgrim throngs of the
Middle Ages" marched. One of the finest ruins, hundred of feet above the road, on
a rocky cliff, is said to have been founded by King Rhaeticus 600 B.C.! Dry history becomes a living thing when studied "on the spot." In the valley
itself is a quaint old chapel, bearing the
---
3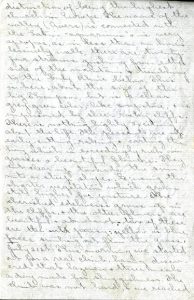 distinction of being the highest church in Europe. The name of the valley (Avers) is connected with Latin "aquarium" & is very apropos, as in less than an hour's
leisurely walk, there are twenty-four streams gushing from either side of the mountains
& tumbling to the baby Rhine below. This is here, about the size of the big Thompson, but is a clear grey-green color, like soapstone & is imprisoned by sheer rocky cliffs.
There is nothing highly exciting about the life. The peasants are up early, cutting,
raking & carting the hay which is exceedingly rich in grasses & beautiful flowers.
They cut clear up towards the summits on steep slopes te using the shorter vegetation which grows still higher for pasture. The cherished
edelweiss grows up in the cliffs, & other flowers are beautiful & abundant — two of these are
the wild pansy; yellow or blue faces smiling out from the grass.
July 21st: This morning we started out for a real climb, having discovered that laziness
& three meals a day made for sluggishness. The climb was not hard, & we reached
---
4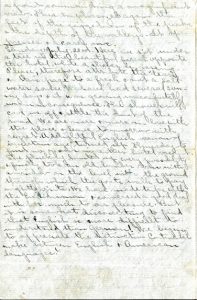 a point commanding a magnificent view. This emphasized again the fact of the jaggedness
of the peaks & the depths of the valleys. It oppresses & scares me.
Sunday: July: 23rd. Here we sit under a tree [??] the beautiful forest opposite the hotel while a shower is passing. Please, therefore
attribute the "tears" on this page to a fresh & not a salt water source. We have had
several sunny days & it was growing uncomfortably warm in consequence. The shower
will cool us off & settle the dust of the road. We are more & more in love with the
place & leave tomorrow with regret. A delightful English woman of "uncertain age"
turned up Thursday to find no rooms in either hotel vacant. She pluckily hunted up
every possibility & finally took an old lumber room with a window on the level with
the ground through which the goats walk to pay nightly visits. We have made trips
with the English woman & converse a good deal with her much to our pleasure. But it
is somewhat disconcerting to find that English is more difficult to understand than
German! We begin to appreciate the distinction Continentals make between English &
American languages!