Great Nebraska
Naturalists and Scientists
Edith Schwartz Clements
Letters, 1911
July 25, 1911
---
1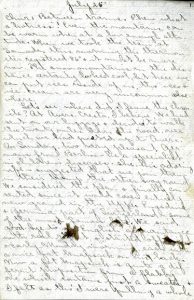 July 25
Chur: Between trains. Phew what a "hotness!" Even the mountains can be warm when at
a low enough altitude. When we took the train at Samada, this morning the thermometer registered 86° & it must be more now. The snow-mountains
in the distance certainly looked cool, but here can put ices inside of us, tho ices
& ice-cream are very uncommon elsewhere.
Let's see: where did I leave the chronicle? At Avers Cresta, I believe. We had sent on our baggage & decided to walk the twenty miles down the
road, over which we had passed up to Avers. On Sunday, two very pleasant Germans from Berlin — he a specialist in children's diseases — she, his adoring wife — suggested that
we join them in their tramp the other way round. We considered the plan & finally
consented, since it would cover entirely new ground in the Upper Engadine & Bernina part of Switzerland — some of the most famous [bits?]. We said good-bye to [our?] English acquaintance with real [regret?] & started off [bright?] & early. Monday morning, each with a nice fat knapsack on his back. Now, a fat knapsack
is quite a different proposition from a flabby one which contains just a sweater &
I felt as tho' I were pulling a whole
---
2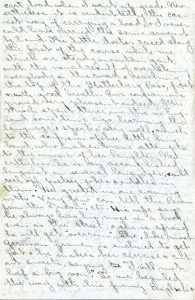 cart-load, when I went up-grade. Nevertheless, it is undoubtedly the easiest way of
carrying a load, & I never could have carried the same amount by hand. The little
doctor raced along the first of the course, while we struck our steady mountain gait,
with the usual result of overtaking everybody on the road & reaching the top of the
Statterberg Pass, first & with good breath. Our companions proved very pleasant indeed. Mrs. Misch spent three months in England some time ago, learning the language & speaks very
well, much to the confusion of her little husband, who makes brave attempts to the
music of her laughter. Nevertheless, he is an accomplished linguist in several languages,
could reel off poetry, jokes & riddles in them. He greeted us one evening with "very
few can tell the Pecan from the Tucan," etc. His wife says he always has his nose
in a book even on the street, & she is afraid he will get "overrun." She, like most
German frauen is inclined to get fat & he makes her exercise & cut out sweets, saying be "I will not haf a big von." So we beguiled the way with his funny English &
---
3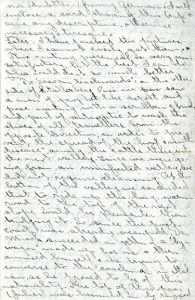 our (doubtless) funny German. I will enclose a card, showing this trip & save any
descriptions otherwise necessary & tiresome.
Later: I have packed the pictures where I cannot easily get them. & This writing piecemeal is very unsatisfactory, but the best I can do. Julia would
do it so much better.
To "resoom​ backwards": on the other side of Statterberg Pass we pas saw a man of prophet-like aspect and pose waiting with a scrubbing-brush, and pail
of antiseptic to wash the shoes of all travellers from the opposite direction, in
order to prevent the spread of the "hoof & mouth disease" among the cattle there into
the next valley. Since we were going from an uninfected valley, we did not require
cleaning. At the bottom of the valley, we concluded that to ride up the long, warm
road to the top of the next slope would be pleasanter than trudging it. So, since
the post coach was already occupied, Dr. Misch succeeded in getting a "by-wagon" made up for us & then amused himself & us trying
to converse to the coachman in Italian, as he proved to be of this nationality. The
top of this pass (Julier) was hemmed in by rugged
---
4
mountains, bare, rocky & desolate. Moreover, a threatening thunderstorm made the aspect
ever more sinister & I was glad to hurry on the downward way. We were caught, however,
by a driving "wet" rain & were quite damp by the time we reached Silva – Plana & found unoccupied rooms. The valley, containing this little town was, or is, delightful.
Below is a In it is a chain of lively lakes & beyond the snow-caps. Tuesday morning, we saw
our acquaintances on their way down the valley to Maloggia, while we went the other way, through St. Moritz, a fashionable watering-place, with "swell" hotels, beautiful villas & a lake. We
caught our tain there at 11:35 & thence had a thrilling ride on the "Albulabahm."
Since seeing the mirables accomplished in the building of this road. I can believe
any engineering feat possible. The bridges would certainly interest Murray. There were many of these, spanning the rocky chasm which we crossed & recrossed,
or allong the precipitous sides of which we crawled with hundred of feet below the rushing
torrent. In many plces the track was below us & in order
---
5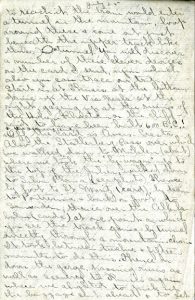 July 25
to reach it the train would enter a tunnel in the mountain, loop around there & come
at just beneath the upper track like this [image] =tunnel. You will discover a number
of these clever devices on the card I send, upon which also you can trace our trip.
Start in at Thusis at the bottom; drive up the Via Niala at the right, gazing up at the ruins of the Hoben-Rhaetian on the cliff — said to have been built 600 B.C.!
& the scenery (card) Off the card is Avers-Cresta. Also the Statterberg Pass over which we walked, down to Mühlen (about) where we took the "by-wagon" up to the top of the Julier; walked down to Silva Plana (see photo) Thence by foot St. Moritz (card); by train to [Pontresina?] & back on foot to [Somaden?]; thence over the [Albila balm?] (cards) at one point on which you see the track going by tunnel directly through
a mountain-chain It took between twelve and fifteen minutes to do this. Thence on
down the gorge, passing ruins as well as scenery to Thunis again where we alighted to pick up the baggage sent ahead & to get
---
6
dinner. Thence down the Danleseg (?) valley , dotted with ruins & castles to Zürich where supper & baths proved welcome preludes to bed. A day in Zürich re-packing & shopping & then off for England!
We broke the long journey by a night at Mayence​, where we got a glimlpse of the cathedral. This is very old (eleventh century) &
full of quaint pictures & images. I think Fritz was quite disgusted at my calling these "funny" — but they really were & one can
scarcely be expected to appreciate any other quality or value in half an hour!
In the morning, early, the inhabitants began collecting all sorts of "junk" on the
aquare in front of the hotel: bedsteads, furniture, umbrellas & what-not. We concluded
it must be a sort of exchange or second-hand market. Mayence​ is awfully old & full of quaint houses, narrow winding streets & smells. You never
know when you start on a street where you are going to end up — just as likely as
not where you do not intend to.
---
7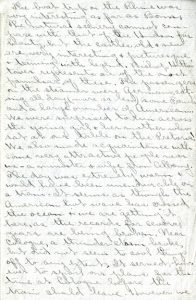 The boat trip on the Rhine was very interesting as far as Boma; The natural scenery cannot compare with that of the Hudson for beauty, but the castles, old & new are very interesting & picturesque & teeming
with legend. Bishop Hatto's tower represents one of the most familiar of these. The passengers on the steamer
were Germans, eating all day (more or less) some French and a large number of Americans.
We were surprised to run across the young girl & her mother who sat at our table on
the Pretoria! We also made acquaintance with some very attractive people near us —
a minister & wife from Albany. The day was extremely warm & would have been unendurable on a train. It seems as
through the American heat wave has crossed the ocean & we are "getting" it here, as
the records for several years are being broken. Near Cologne, a thunder-storm broke, but did not seem to cool things off to any extent. It served,
however to spoil our plans for the time at Cologne before the train should leave. However we
---
8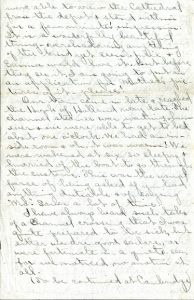 were able to view the Cathedral from the depot & stand within for a few minute's impression.
It is a wonderfully beautiful thing — overshadowing anything of the kind yet seen.
Julie & Emma would love it. But before they see it, I am going to put in an application
for Mother's pictures of it — please!
Our train came in late & reached the Hook of Holland very late. The channel steamer
was waiting, however & we were able to get to bed about one o'clock. We han an inside
room & oh, it was warm! We were wakened at six, so sleepy & hurried of​ the boat to go through the customs. This was the usual farce of being asked if you
had anything dutiable & of saying "no." Saves a lot of time.
I have always heard such tales of a Channel crossing that I was quite prepared to
be sick, but either we are good sailors, or were fortunate in a quiete sea, for we noticed no motion at all.
(To be continued at Cambridge)